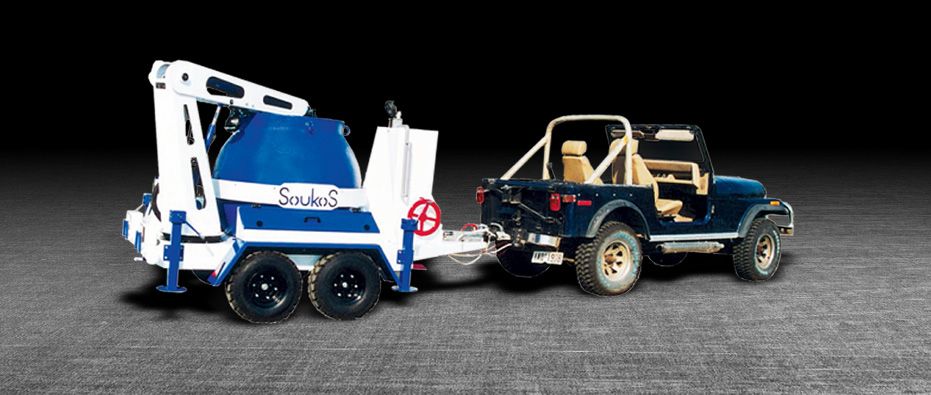 Robotank is a field tested trailer— type robotic bucket for the safe transportation of explosives. It is a system properly designed and developed to apply successfully to large scale missions of dangerous applications concerning explosive collection and transportation.      

Robotank is equipped with the appropriate components to provide total security and high flexibility. It consists of a trailer, a remotely operated robotic arm for collection of explosives and a containment vessel. Cameras can be installed so that the user can have real time video from the site of action. The video is displayed through a TFT monitor situated at the control unit. Inside the containment vessel a suspension bed is fixed. The explosives are placed on this bed so that during transportation all the vibrations that could result in the detonation of the explosives are absorbed.

Each container is tested with an explosive force of 7 lbs of C-4 charges, and is capable of controlling the over-pressure caused by the explosion so that it will not exceed the safety limits within a 2-meters diameter of the containment surface.  The container vessel is made from high-strength, high impact specially manufactured steel with thickness of 30mm.The explosives are placed in a disposable suspension bed and are loaded through an 800mm diameter opening on the top of the container. The system is designed in such a way that virtually eliminates human exposure.

The Containment Vessel

The containment vessel is a spherical, 1200mm diameter, stress relieved steel bin with an 800mm diameter opening on the top. Mounted on a shock absorbing base, the vessel is designed to contain the detonation of 7 lbs of C4 explosive. Internal suspension bed is standard. Removable rain cap is also standard.

The Trailer

The trailer is a welded, all steel platform measuring 3500mm total length, 2100mm total width and 2700mm total height. The trailer is mounted on 4 wheels and features spring suspension and brakes. Lockable storage compartments are available on request. The dimensions of the trailer can be adapted to the customer's requirements.

The Robotic Arm

The robotic arm is capable of lifting and maneuvering a 35kgr package. With the remote control and the cameras, it is possible to remotely retrieve and deposit a suspect package inside the container. The remote control can be done either wireless or with a wire. Please do not hesitate to contact us for further information.